Days to the Submission Deadline
Important Dates

Submission

Extended to Apr. 20, 2020

Notification

20-40 days after the submission

Publication

15-20 days after the final edition

Conference

May 25-27, 2020
Contact Us


Telephone: 021-51098086

Cell Phone: 0086-18101720867

WeChat: 18101720867
The information about the Keynote Speakers of ICCEE2020 is as follows, which will be updated regularly.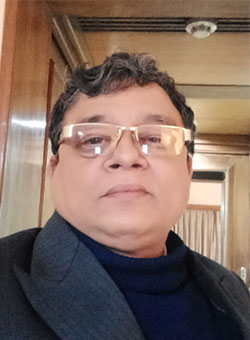 Dr. Brajadulal Chattopadhyay, Professor
Department of Physics, Jadavpur University, India
Biography: Dr. Brajadulal Chattopadhyay is currently working in the Department of Physics, Jadavpur University, India. Prof. Chattopadhyay completed his Master (1987) and PhD (1994) degrees from the University of Calcutta, India and worked at Bose Institute, India and Technical University of Delft, the Netherlands as postdoctoral fellow. He has been working in the field of Bio-concrete development by using hot spring anaerobic bacteria to enhance the strength and durability of concrete structures since 2001 and published his work in many internationally reputed journals. He has already supervised 20 PhD students and holds one National and two International patents in his research career. He is the recipient of National Scholarship and Overseas Postdoctoral Fellowship from Government of India.
Topic: Bio-concrete: A Microbial Approach for the Journey from "Green House" to "Green Home"
Abstract: Microbiologically incorporated cementitious materials to recuperate the activities and toughness of the concrete structures are a new aspect of research work in the current era. The uses of different chemicals and additive in concrete composites sometimes cause health problems which are environmentally unacceptable. In this study we have designed an eco-friendly bio-engineered with high strength and more durable concrete by using different hot spring bacteria. A novel thermo stable and high pH tolerant silica leaching protein ((M.W. ~ 28KDa) originally isolated from one of the hot springs bacterium BKH2 of Bakreshwar, West Bengal has been utilized for production of high performance concrete. The corresponding gene of the protein has been identified and cloned in E. coli and B. subtilis etc. bacterial strains to develop bio-concrete material. Improvement of compressive strength (> 30 – 40%), ultrasonic pulse velocity, sulphate and chloride ions resistant and decrement of water absorption capacity are noted in the bacteria amended mortar/concrete specimens. Micro-structural analyses confirmed the formation of a novel Gehlenite (Ca2Al2SiO7) phase besides calcite deposition inside the matrices of the transformed bacteria-amended cementitious materials. This development significantly increases the true self-healing property and aims towards the production of green cement-alternative by using cent-percent fly ash which is sustainable for a prolonged period. This implies lesser requirements of cement and lowers the cost of construction. This study demonstrates a new approach towards the development of Green Home technology by reducing Green House effect of cement production.